Raindrop Texting Solutions
Fund Freedom
---
---
$10,000
target amount
$500,000
max amount
Regulation CF
exemption used
$5,000,000
pre money valuation
$100.00
min investment
1
investors
---
Security Type
Common Stock
$5 per share
Bonus
Invest $250 or more:
Get an awesome t-shirt and hat with our cool droplet logo! Style for you. Free advertising for us :)
Invest $750 or more:
Existing Clients: Get 6 months of texting service at Downpour level or lower. New Clients: Setup fee waived. Plus, get 3 months of texting service at Downpour level or lower.
Invest $1,500 or more:
Get two tickets to CPAC or NRB in 2021.
Pitch
Who are we
Mobile marketing company giving power to the people through innovative technology.
Having several year's experience being involved with grassroots organizations, we recognized the impact texting was having with our progressive counterparts. Since there was no texting company servicing the conservative market, we created Raindrop to give them the powerful texting tools the left had used for years, thus leveling the playing field.
Problem
Water it, and it will grow...
Can one person make a difference? Can an individual impact a cause, a candidate, a country? Of course! Now, combine many thousands of individual voices, like raindrops, and you create a torrential downpour of change.
That's why we started Raindrop.
And it starts with the grassroots. By offering organizations tools where they can effectively engage with their supporters, then their cause will thrive.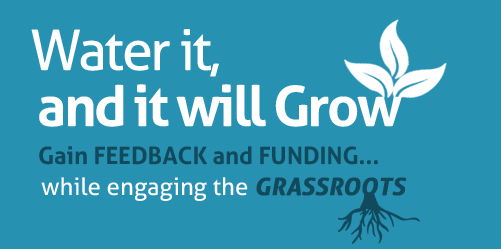 Why Texting?
Do you still read all your emails? NO ONE DOES.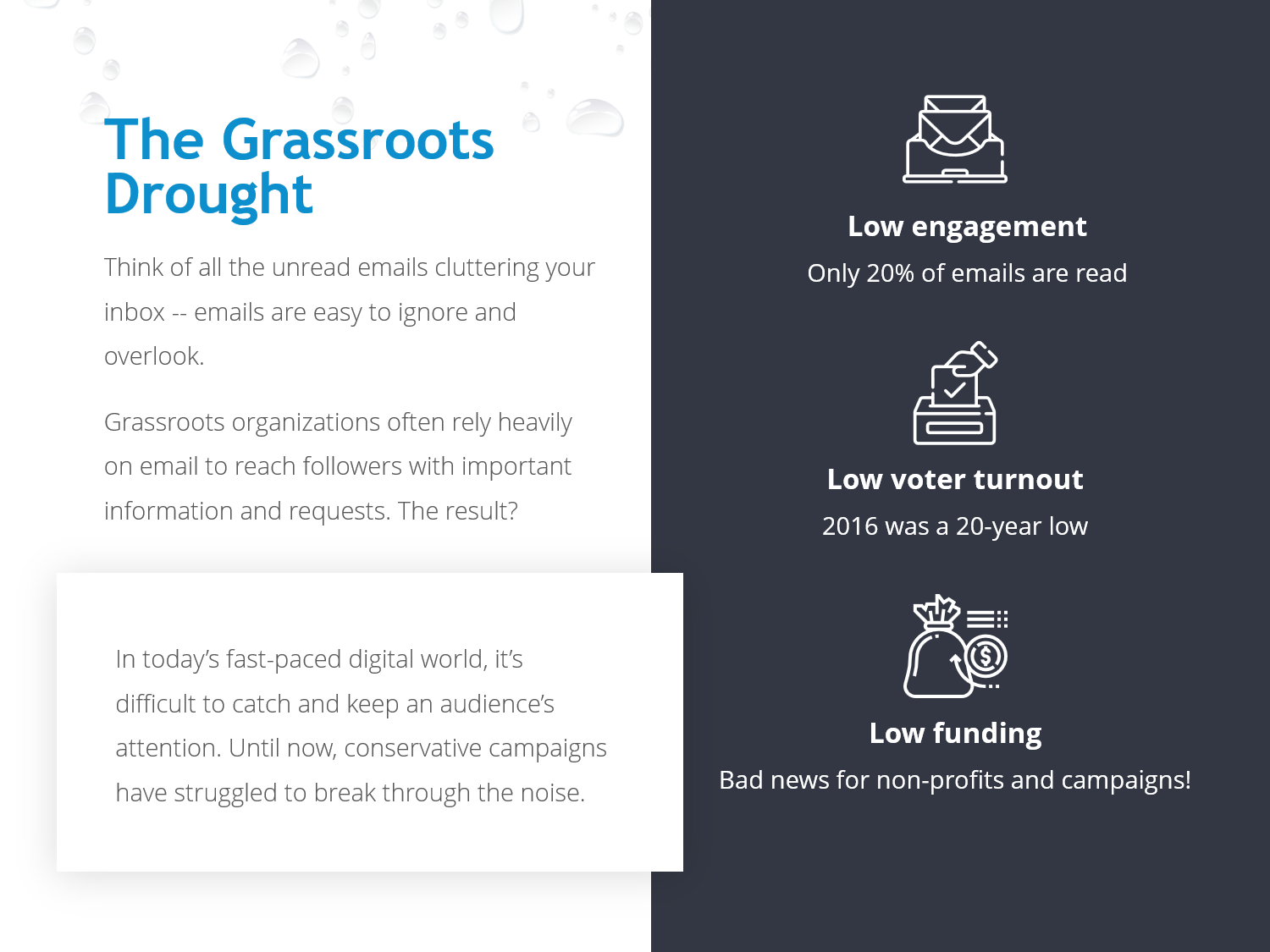 The Left Understands the Power of Texting
Having several year's experience being involved with grassroots organizations, we recognized the impact texting was having with our progressive counterparts. In 2008, a George Clooney fundraiser raised millions for Barack Obama, via text messaging. The Left has successfully utilized texting technology for over a decade.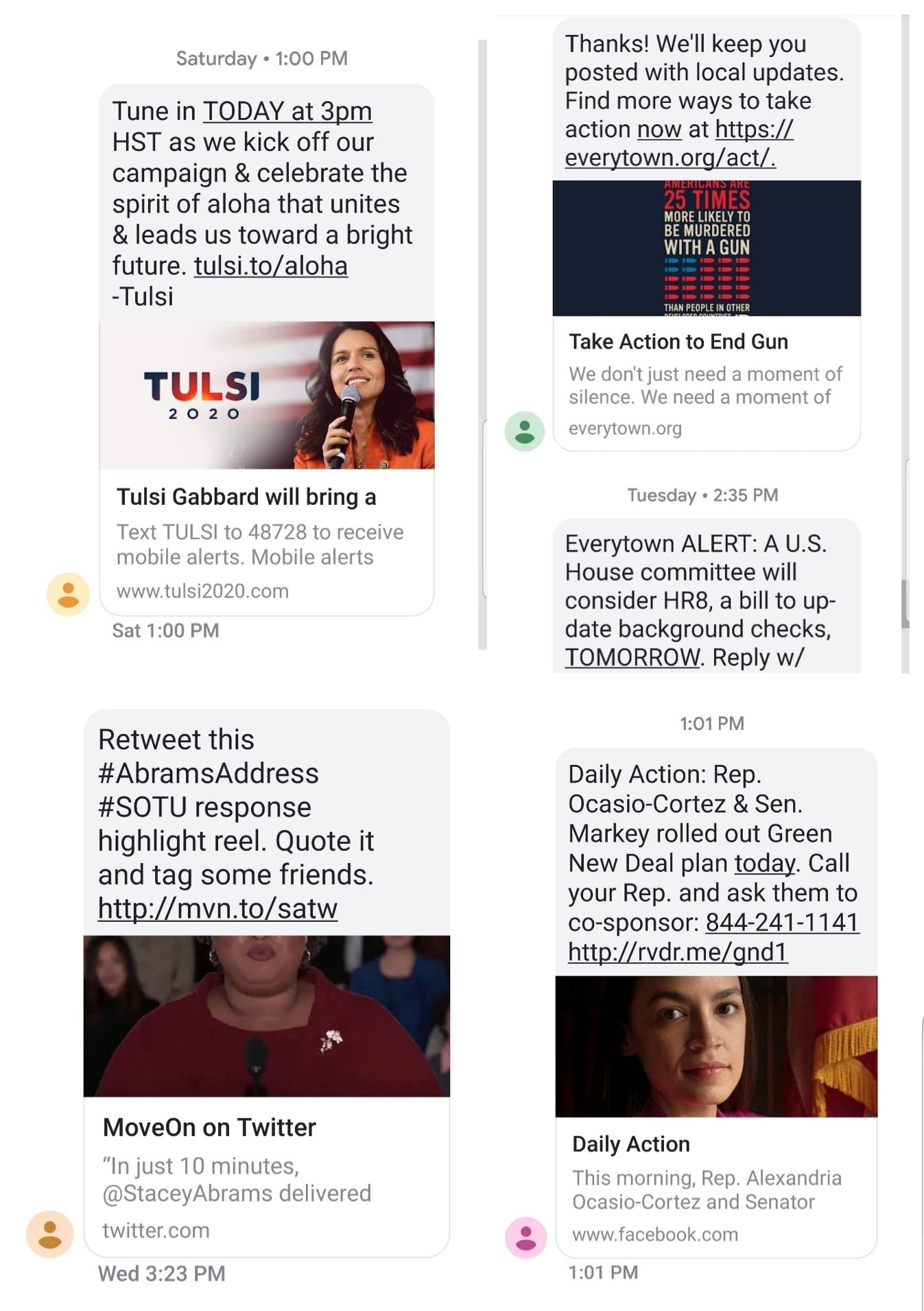 Political marketing is typically partisan. The vendor listings on campaignsandelections.com reflect that.
Solution
The Right Time
Since there was no texting company servicing the conservative market, we created Raindrop to give them the powerful texting tools the left has used for years, thus leveling the playing field.
We provide Text Messaging, Text Polling, and Text Fundraising. These are all geared towards organizations to be able to inform and engage supporters, gain feedback, and generate funding from them.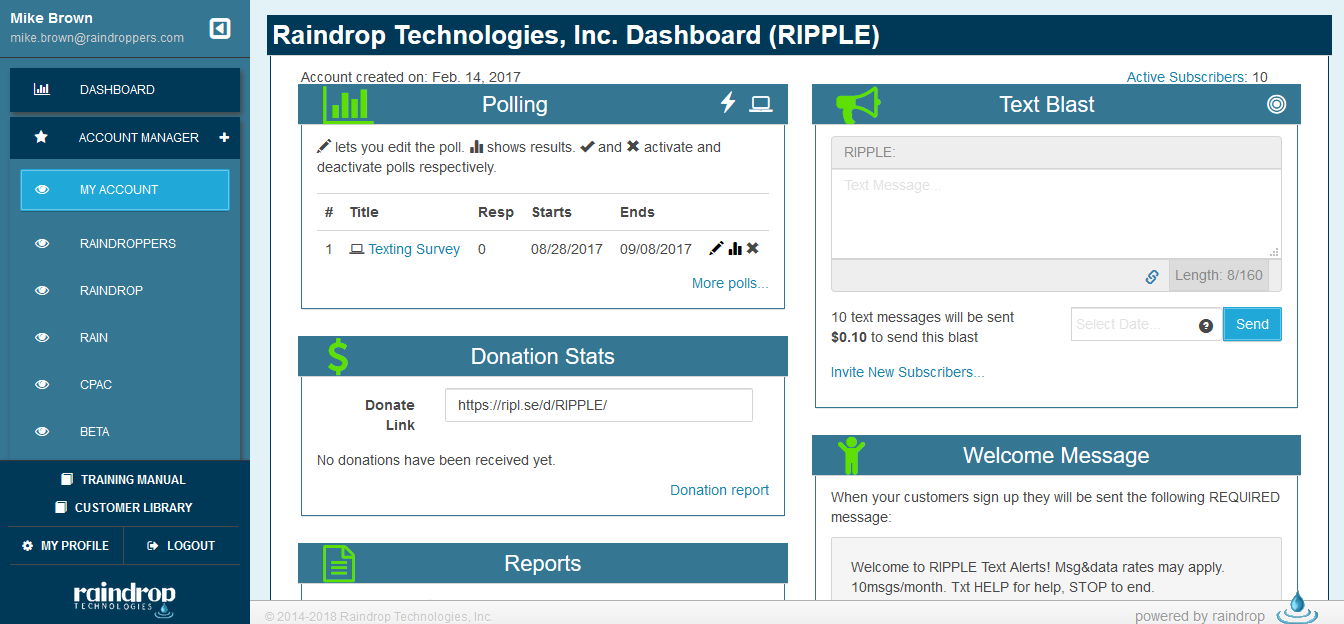 NEW Technology Beyond Texting - The Sentimeter
Gauge the "sentiment" of any audience from their mobile device.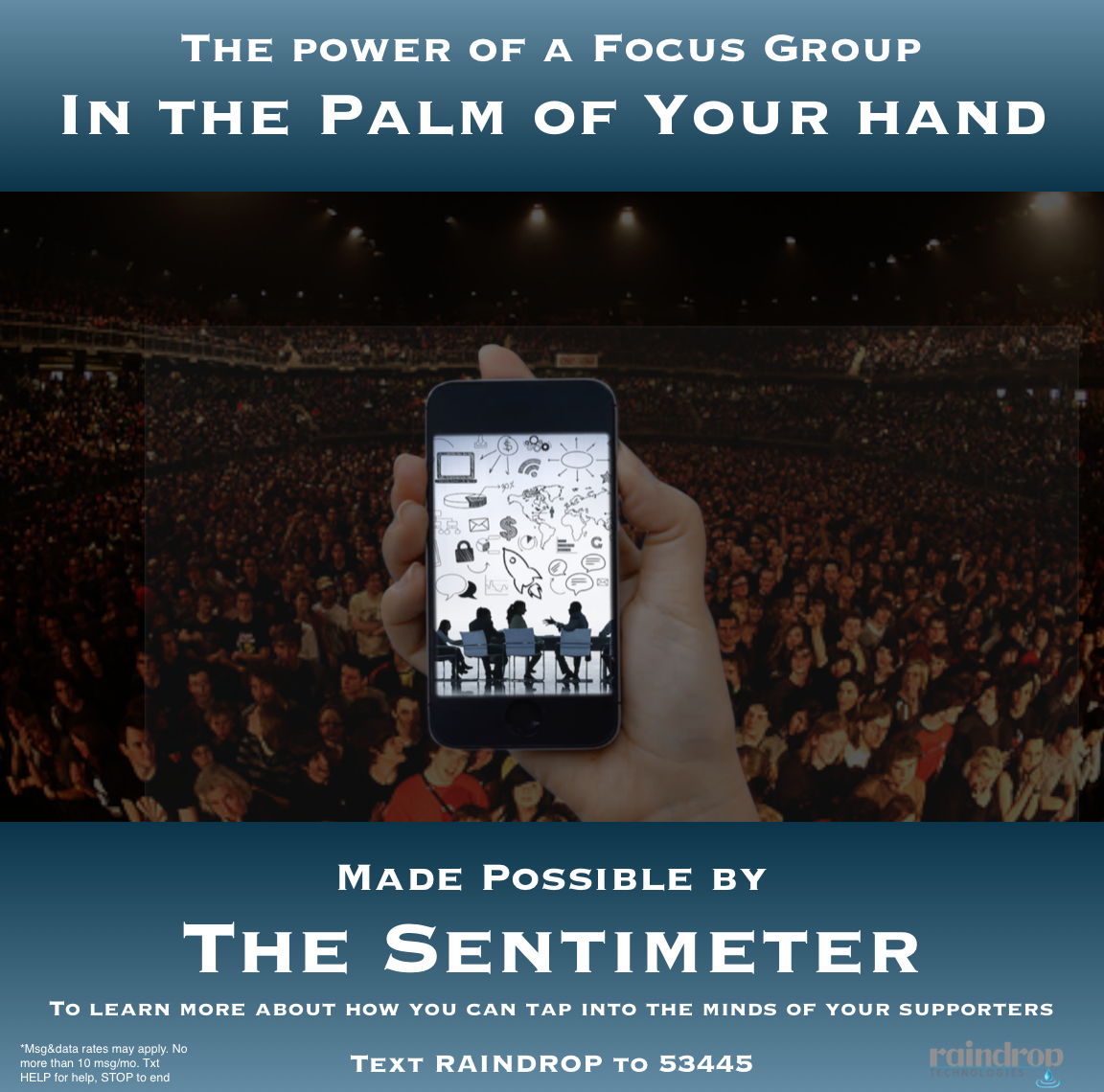 What is The Sentimeter?
The Sentimeter is a "sentiment meter" that will give you instant feedback about how your members are feeling about an issue, speaker, TV show, newscast, or any event that is live streaming or video recorded.
How Does it Work?
Any recorded or live-streamed event can be turned into a focus group through a proprietary technology, designed to be used on any smartphone. You setup the parameters according to the criteria you want to measure. We are then able to gather the data from each of your members based on how they scored each moment of the event. We use markers to match the individual responses to the event or video. During a live event, the data shows up on the dashboard in realtime.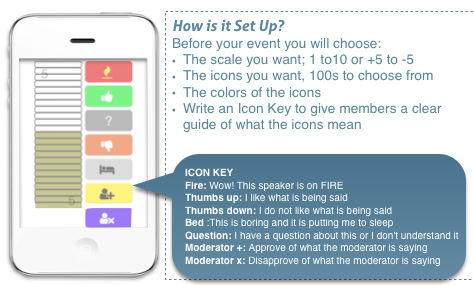 Texting Services Under Our Umbrella

Staying Up-to-date: News updates, coupons, and calls-to-action can be sent out at lightning speeds. 98% of texts are read -- texts aren't overlooked like emails.
Voters and Volunteers: Organizations can text out updates on event locations and times, polling locations, and Get-out-the-Vote reminders.
Quick Counters: Texts can refute misinformation as soon as it's spread.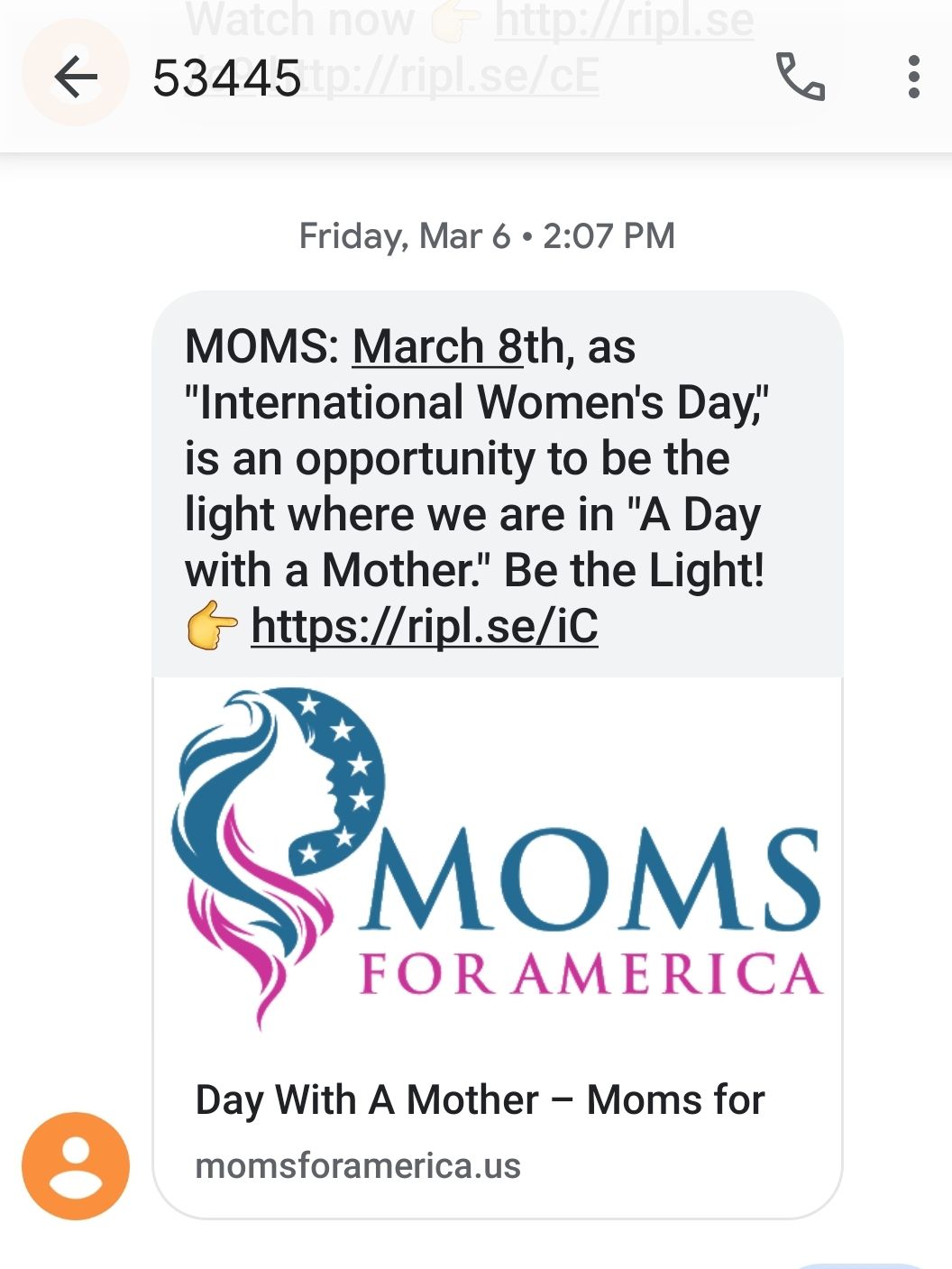 Feedback: Organizations can poll followers and send targeted texts to respondents.
Meeting votes: Organizations can poll members during meetings, calculate results in real-time, and project the results on a screen.
Polling Constituents: Candidates can use web polling to get detailed feedback from constituents on specific bills, engaging them in the legislative process.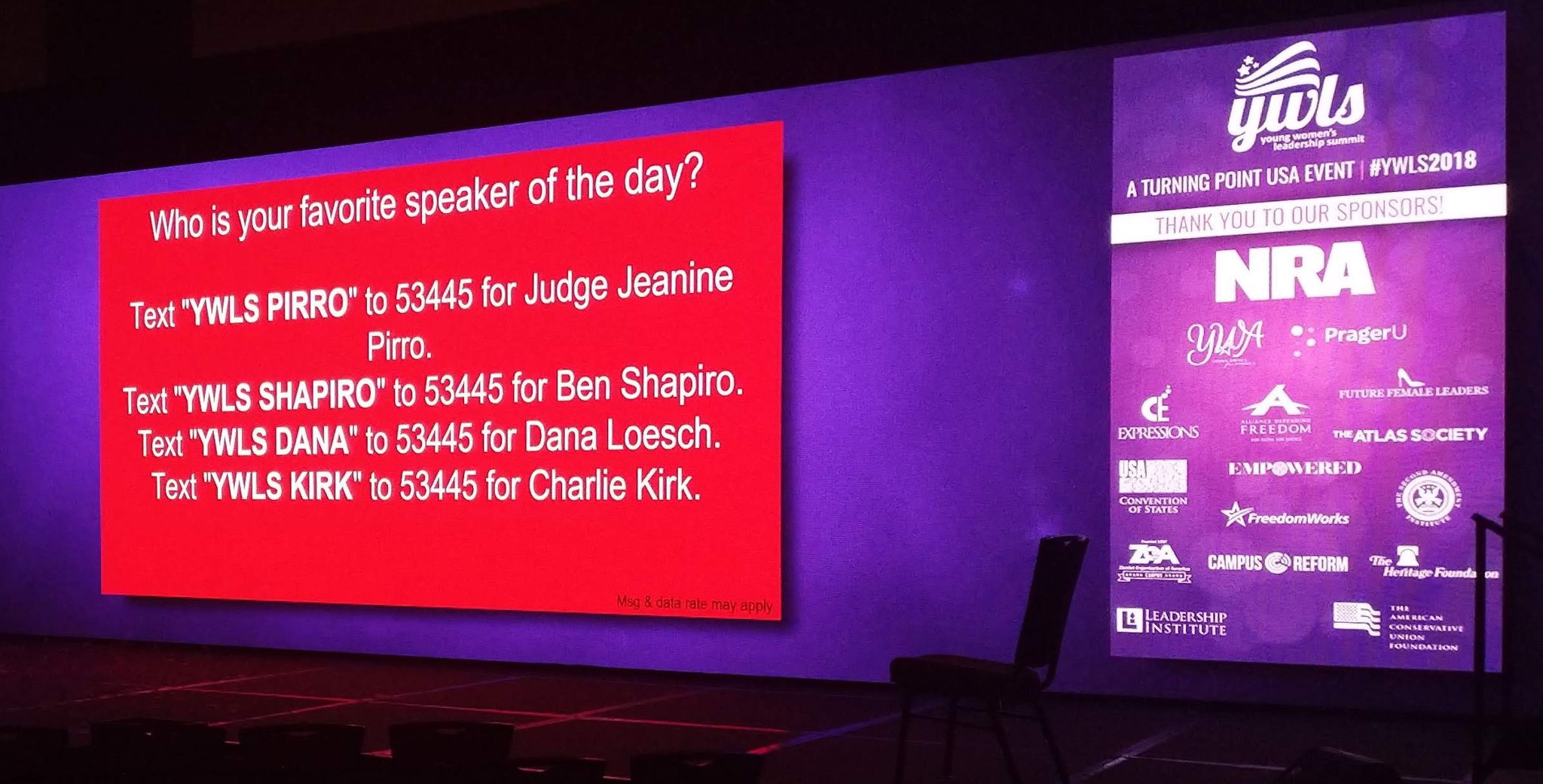 Easy donation: Any dollar amount. Custom donation links for every keyword.
This increases the number of small-dollar donations and engaged supporters.
Live event donation: Gives attendees a direct shortcut to donate when the emotion of the event is at its peak.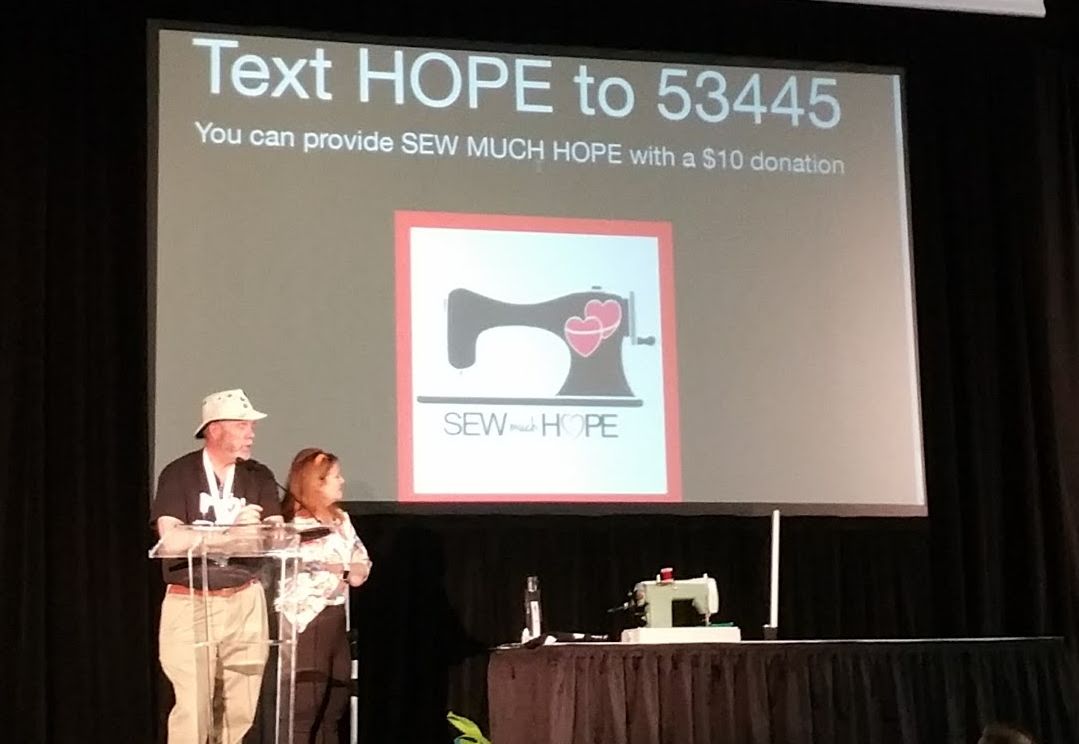 Achievement & Traction
Traction
We have had over 100 clients ranging from local school board candidates, independent movie theaters, and local non-profits, to large national non-profit organizations, US senate and Congressional candidates, and multiple national motion pictures.
255% Revenue Growth over the last two years
155% Revenue Growth over the last year
125% Average Revenue/Client increase over the last year
Strategic referral partners in every area of the country
Clients include Turning Point USA and Students for Life, among largest conservative student nonprofits in the country


Testimonials
Raindrop's texting tools are a dynamic way to inform and connect with supporters or event attendees. We especially loved how easy it was to do raffles or giveaways through their texting system.
Mike and his team excel at customer service; they intentionally provide conscientious and helpful tips if we ever have a question.
We've loved using Raindrop!
Dawn Hawkins Executive Director, National Center on Sexual Exploitation
What we were able to accomplish through the utilization of Raindrop's texting platform, was nothing short of amazing. An integral part of our plan required us to contact, organize, and stay engaged with a few thousand individuals, and we needed to do this in a short period of time. Raindrop's easy-to-use tools and top notch customer service turned this daunting task into a reality.
The texting tool allowed us to inform the delegates of vital information at the very moment they needed it. The polling tool allowed us to get actionable information back from them. Everything worked seamlessly.
Standing up to Establishment policies and procedures that were designed
with the intent to silence our voice at the convention wasn't easy, but
it wouldn't have been possible without the use of Raindrop Technologies.
Dane Waters Director, Delegates Unbound

I am extremely impressed and satisfied with how simple it is to stay in contact with my Precinct Chairs. As the Salt Lake County GOP Chairwoman, it is important to communicate quickly and effectively with all of the Precinct Chairs. I was able to motivate a majority of the Chairs to opt-in, making communication and feedback as simple as a click of a mouse.
Raindrop Technologies is a game changer!
Suzanne Mulet Chairwoman, Salt Lake County Republican Party
Market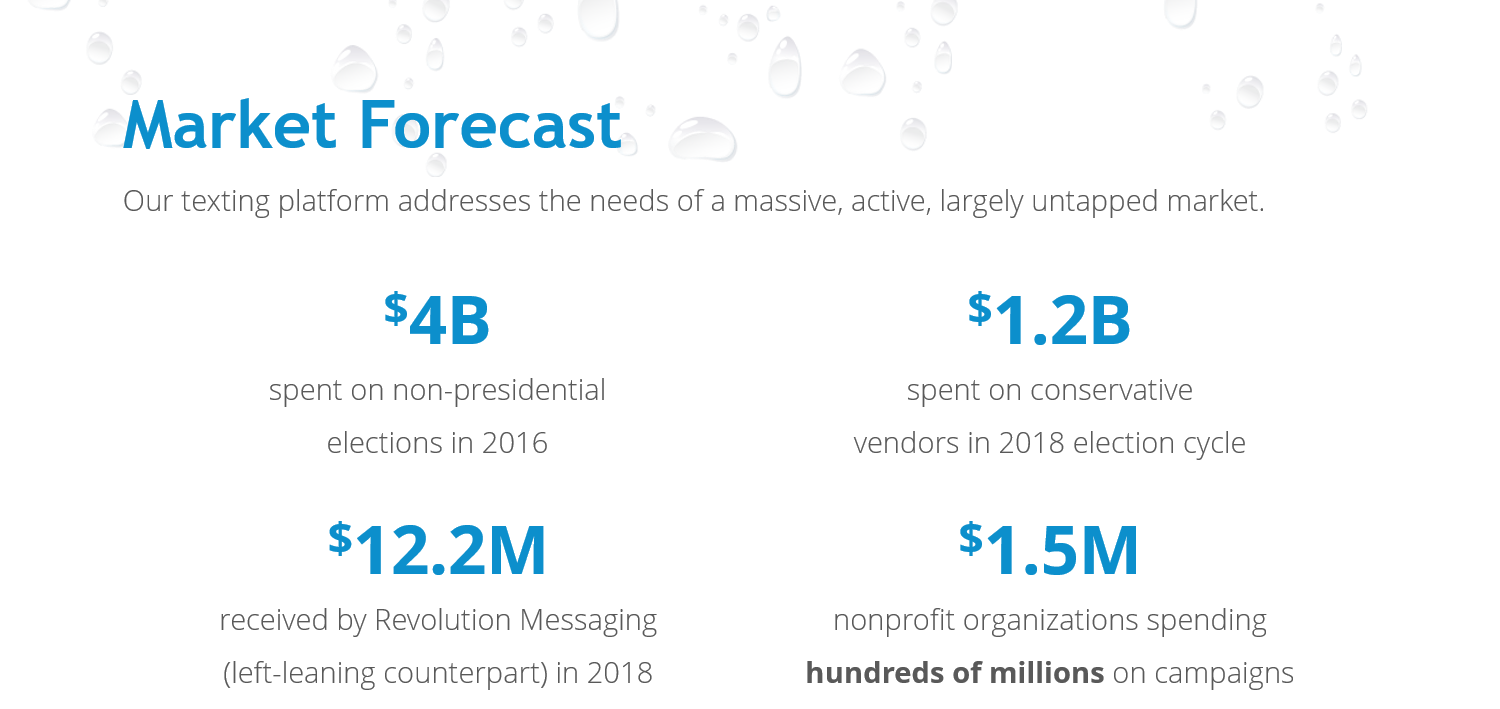 Business Model
Revenue Streams
Setup fees
Monthly plan fees
Usage fees: per text, donation percentage
Management plan fees if we manage texting platform for clients

Team
Use of Funds
Updates
No updates, yet. Stay tuned.
Q&A
Unfortunately, this securities offering is closed. For questions, please email support@trucrowd.com. Thanks!
Alex Philipose
- Investor
3 years ago
When would an investor be able to sell shares back to the company?
Other Disclosures
Read the
Form C
filed with the SEC for other important disclosures, like financial statements, Directors, Officers, shareholders with more than 20% of voting rights, and more.
Special Note Regarding Forward-Looking Statements
This offering contains forward-looking statements within the meaning of the federal securities laws. We caution investors that any forward-looking statements presented in this offering, or which management may make orally or in writing from time to time, are based on the Company's beliefs and assumptions made by, and information currently available to, the Company. When used, the words "anticipate," "believe," "expect," "intend," "may," "might," "plan," "estimate," "project," "should," "will," "would," "result" and similar expressions, which do not relate solely to historical matters, are intended to identify forward-looking statements. Such statements are subject to risks, uncertainties and assumptions and are not guarantees of future performance, which may be affected by known and unknown risks, trends, uncertainties and factors that are beyond the Company's control. Should one or more of these risks or uncertainties materialize, or should underlying assumptions prove incorrect, actual results may vary materially from those anticipated, estimated or projected. While forward-looking statements reflect the Company's good faith belief when made, they are not guarantees of future performance. The Company expressly disclaims any responsibility to update forward-looking statements, whether as a result of new information, future events or otherwise, except as required by law.

Moreover, we operate in a very competitive and rapidly changing environment, and new risks emerge from time to time. It is not possible to predict all risks, nor can we assess the impact of all factors on our business or the extent to which any factor, or combination of factors, may cause actual results to differ materially from those contained in any forward-looking statements we may make. In light of these risks, uncertainties and assumptions, the forward-looking events and circumstances discussed in this offering may not occur, and actual results could differ materially and adversely from those anticipated or implied in the forward-looking statements. We undertake no obligation to revise or publically release the results of any revision to these forward-looking statements, except as required by law. Given these risks and uncertainties, prospective investors are cautioned not to place undue reliance on such forward-looking statements.
Raindrop